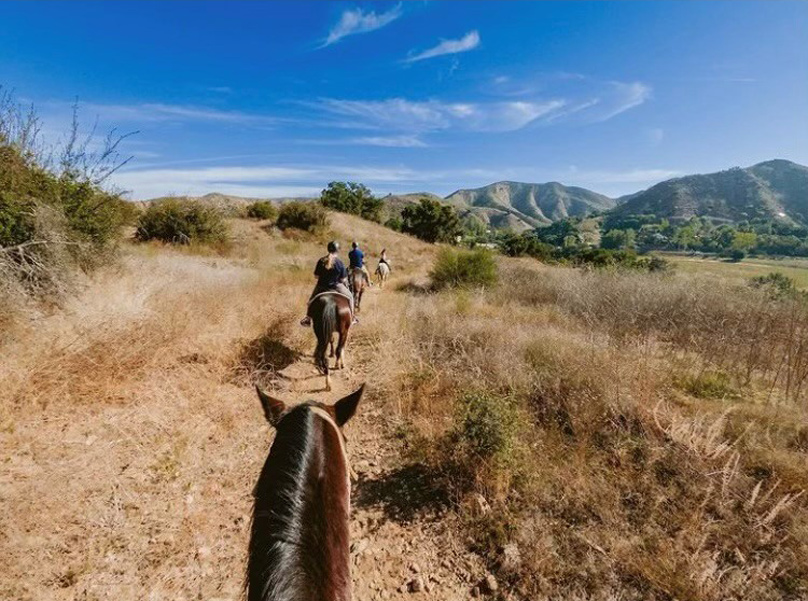 Paramount Ranch - Agoura Hills
(1.5 Hour)
This ride is a 1 hour and 30 minute loop located just behind Malibu in Paramount Ranch National Park. The scenery is amazing. It has beautiful forests, ancient oak trees, and an abundance of wildlife. Deer, coyote, and bobcat sightings are common. There are also streams that flow all year and the horses love to drink and splash in the water. The Paramount Ranch trail is our most popular ride, and it is sure to please kids and adults alike. Simply the most relaxing and enjoyable trail from start to finish.
$150.00 per person (8yrs and up, Max Weight: 235lbs)
Arrive 45 minutes prior to ride time.
Please remember to download, print, sign, and bring this PDF form to your ride.
Rider's age: 8+ years old
Please note, that for parties of 4 or more, there is an automatic 20% gratuity added to your total - for your guide.
SAFETY REQUIREMENTS OF RIDERS
ALL RELEASE FORM WAIVERS MUST BE DONE ONLINE BY EACH MEMBER OF YOUR RESERVATION AND EMAILED BACK TO THE MALIBU RIDERS OFFICE BEFORE THE DATE OF YOUR TOUR. ALL MINORS NEED LEGAL GUARDIAN TO FILL OUT A WAIVER IN THEIR NAME.
PLEASE MAKE USE OF OUR HAND SANITIZER (or you are welcome to bring your own!)
DISPOSE OF ALL OF YOUR OWN WASTE IN OUR PROVIDED TRASH BINS.
TO AVOID TOUCHING OTHERS BELONGINGS, WE ENCOURAGE YOU TO BRING YOUR OWN CAMERA OR ALLOW THE TRAIL GUIDE TO TAKE IPHONE PHOTOS OF YOU AND SEND THEM LATER ON.
WE ENCOURAGE YOU TO ALSO BRING YOUR OWN REUSABLE WATER CONTAINER OR WATER BOTTLES WHILE VISITING THE PARKS.
PLEASE ALERT A STAFF MEMBER IF YOU ARE FEELING SICK IN ANY WAY BEFORE TAKE OFF.
REMEMBER THAT WE ARE RIDING IN A PUBLIC NATIONAL PARK AND WE SHARE THE TRAILS! THAT BEING SAID, IF YOU FEEL THE NEED TO EXPRESS YOUR OPINION ON THE SAFETY REQUIREMENTS YOU MAY BE ASKED TO LEAVE WITHOUT REFUND.
Frequently Asked Questions
Here are some answers to questions that riders have asked us in the past:
Do I have to pay for parking?

No, parking is free for all riders.

How many people can ride at one time?

We can take up to eight riders per hour.

What Should I Wear?

We suggest wearing loose long pants (Wear shorts at your own risk), must wear closed toed shoes, tennis shoes are good enough.

Can We Bring a Camera?

Absolutely! In fact we encourage you to take photos and post them to share with your friends! Send us your pics and we may even feature them next to our celebrities! However, we are not responsible for damage or loss to your equipment.

How Long are the Rides?

All rides are approximately 1 hour** long. Additional hours available. Please ask for details. **All riders are expected to arrive at their reserved location at least 45 minutes prior to their reserved ride time.

I Have Never Been Horseback Riding Before. Is That OK?

As long as you are below the rider's weight limits and in physical condition outlined in the rider release form, you're ok. Just enjoy the ride!

Where can I eat before/after horseback riding with you?

Paramount Ranch: Just a few minutes from where you will meet us for your Agoura Hills trail ride, there is a fantastic restaurant called The Old Place. Right next door to The Old Place, there's also a hip, welcoming winery called Cornell Winery.
Zuma Canyon: Malibu Cafe, Gladstones, and Spruzzo Italian are popular spots.